2.11.1. Smoking, Vaping and Tobacco
Effects of Smoking
Tobacco smoke is considered an environmental toxicant containing more than 4000 chemicals. More than 70 of these chemicals are known to cause, initiate and promote cancer.[1] Smoking is linked to more than two dozen diseases and conditions. Most of smoking adverse effects can start to reverse once you quit. Sometimes these effects will occur in a matter of hours.
Figure 2.11.1.1 Tobacco: Behind the Smoke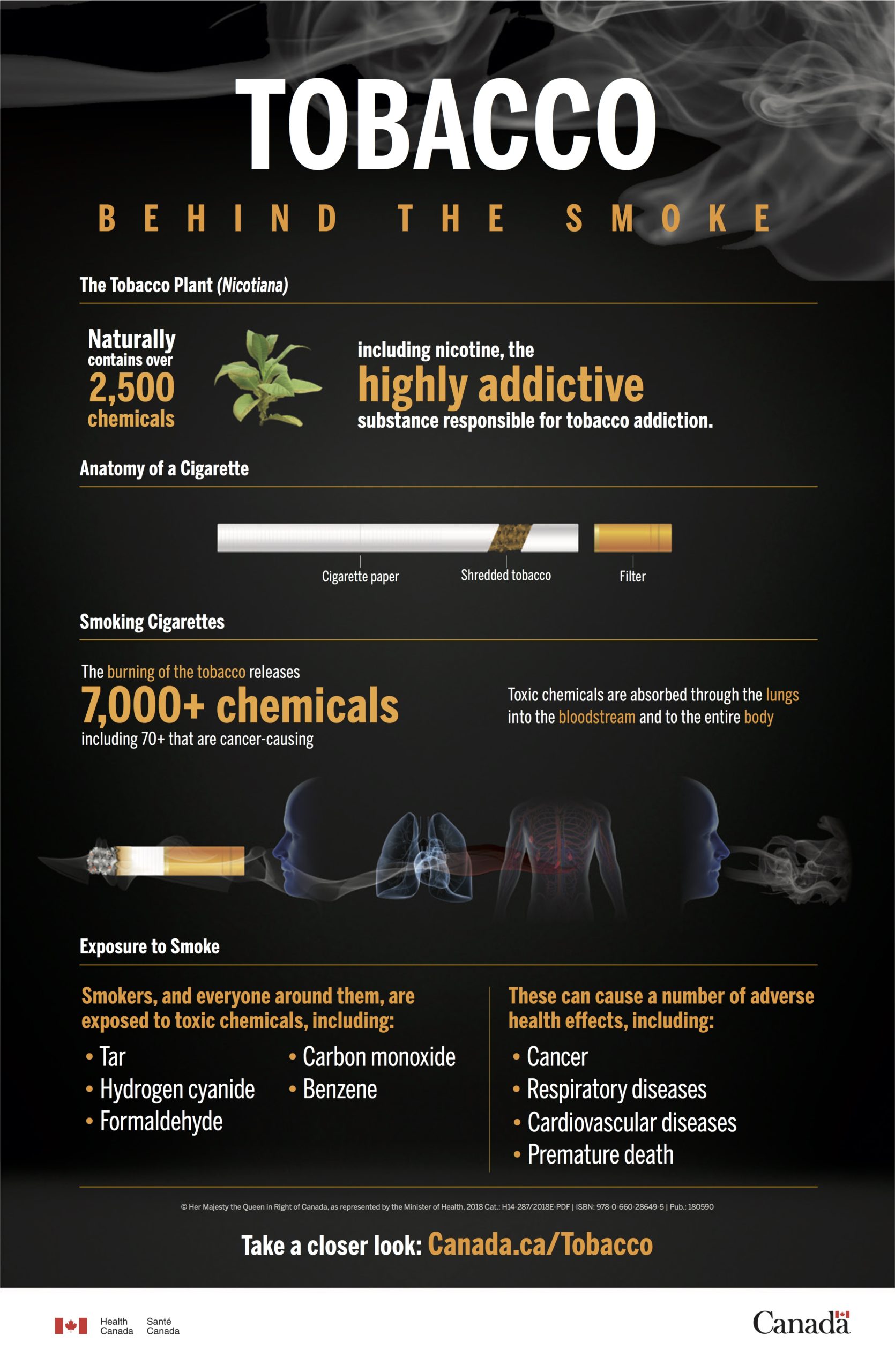 Health risks for people who smoke include the following:[2]
problems with their heart and blood vessels
stroke
certain types of cancers
lung and respiratory problems
premature death
Female smokers are also at increased risk for the following conditions:
cancer of the cervix
problems with periods (menstrual problems)
problems getting pregnant (fertility problems)
premature delivery
having a low birth weight baby
Male smokers are also at increased risk for problems with erections (impotence/erectile dysfunction).
Health Risks From Second-Hand Smoke
Second-hand smoke includes both the smoke coming from the burning tobacco and the smoke that is exhaled by the person smoking. Children are especially at risk from second-hand smoke because their respiratory and immune systems are still developing.[3]
People exposed to second-hand smoke are at increased risk for
heart problems,
lung cancer,
breathing problems (like more severe asthma),
excessive coughing,
throat irritation, and
premature death.
Children exposed to second-hand smoke are at increased risk for
respiratory illnesses,
more frequent and more severe asthma attacks (among children with asthma),
ear infections,
phlegm, wheezing, and breathlessness, and
decreased level of lung function.
Consider the Consequences of Vaping
Even though vaping may be less harmful than smoking, there are still several consequences that must be considered. Vaping still exposes you to chemicals that can be harmful for your health and can still lead to nicotine addiction.[4] Vaping still exposes the individual to dangerous chemicals such as formaldehyde, acrolein and metals such as nickel, tin and aluminum. Moreover, the long term consequences of vaping and inhaling liquids like vegetable glycerine and propylene glycol is unknown.
Health Risks of Vaping With Nicotine
Nicotine is not known to cause cancer however it is a highly addictive substance that can lead to dependence especially in populations that were not smokers. Children and youth are at risk for nicotine addiction becoming dependent on nicotine levels at lower levels of exposure than adults. Nicotine can affect memory and alter brain development in teens. In teens, nicotine can also reduce impulse control and cause cognitive behavioural problems.[5]
Second-Hand Vapour
Second-hand vapour is not harmless but does contain far fewer chemicals than second-hand smoke. However, the health effects of second-hand vapour are still unknown. There is evidence that e-cigarette use increases the level of nicotine and other chemicals on indoor surfaces. Although the health effects of second-hand vapour are believed to be lower than that of second-hand smoke, it is still recommend that user be aware of their surroundings and not vape near children or other non-vapours.[6]
Vaping Versus Smoking
Quitting smoking is the best thing you can do to improve your health. However replacing smoking with vaping will reduce your exposure to harmful chemicals.[7] Vaping typically contains a fraction of the 7000 chemicals found in cigarette smoke, does not involve burning or produce smoke. However, a vaping dependance can easily replace a smoking dependance because both of these contain nicotine which is highly addictive.
Nicotine Addiction
Nicotine is the chemical that makes tobacco and some vaping products so addictive. Once you introduce nicotine into your body it craves more. Nicotine is naturally found in the tobacco leaf. When you smoke tobacco nicotine is absorbed in the lungs and then moves into the blood stream where it can access the brain and other body organs. This can all happen within 10 seconds. Several reactions ensue such as increased heart rate and blood pressure, blood vessel constriction and muscle relaxation.[8]
Withdrawal Symptoms
Stopping smoking causes nicotine levels within the body to drop resulting in withdrawal symptoms. These symptoms are temporary and are often signs that the body is healing. Knowing what to expect can increase your chances of quitting. Most withdrawal symptoms will happen in the first week. They include the following:[9]
dizziness and shaking
headaches
anxiety and irritability
difficulty concentrating and sleeping
increased appetite
slight depression or feeing down
craving for a smoke
Craving cigarettes can last for months even after the withdrawal symptoms are gone. This desire can be amplified in situations of stress, boredom or social exposure to other smokers. During these times it is important to remember your reasons for quitting and remember that these cravings are only temporary.[10]
Quitting Smoking or Vaping
There are several ways you can ease the process of quitting smoking or vaping. There are several commercially available products which help an individual tapper off their nicotine addiction. These products include patches, gums and lozenges. Additionally an individual can seek the help of a counselor to get over their addictive patterns. You can also talk to your doctor for advise and possible prescriptions that can help you quit smoking. Help can also be found online at the Government of Canada's Quit Smoking Webpage. Quitting the use of highly addictive nicotine is a challenge however with the right support and plan anyone can quit smoking or vaping.
Smoking or Vaping During Pregnancy
Women who smoke or vape during their pregnancy are at a higher risk of still birth and preterm deliveries. Their babies are also at an increased risk of low birth weight and death in the first year.[11] Women are encouraged to quit smoking before coming pregnant and to abstain from smoking for the entire length of their pregnancy. Additionally women should not smoke while breastfeeding as the harmful chemicals that are inhaled can enter the breast milk.
---